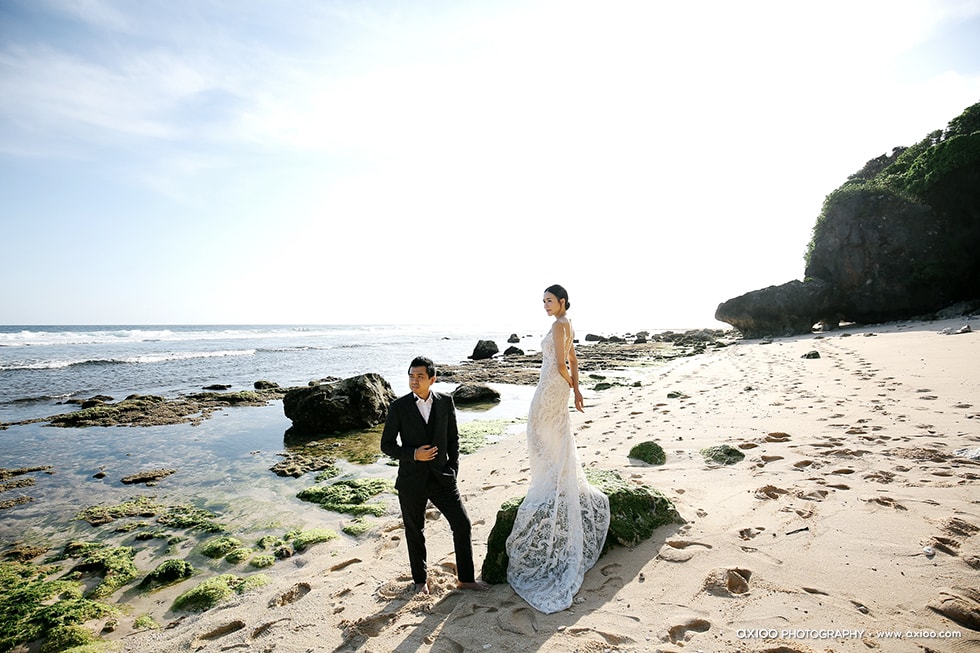 Karen and Victor's wedding was held in Bvlgari Resort Bali and attended by a handful of their dearest friends and family. For them, the hotel was love at first sight; the most perfect location to accommodate the perfectly intimate celebration. Indeed, the breathtaking resort did deliver with a heightened sense of luxury and cozy ambience that put all guests at complete ease.
But the center of attention belonged solely to Karen. As she brushed her hands along customized and highly intricate white gown by Berta - the Israeli fashion house, there was something whimsical about her that we can't help but noticed. They say that a girl looks her best when she's in her wedding gown. Karen was yet in one but she managed to steal our breaths away all the same.
On the other side there was Victor. He was equally prepared and suave in his Dolce & Gabbana black tuxedo, but there's no denying the high emotions in the room before he set off to pick his bride. The best men cheered him on, and off he went - ready for his once-in-a-lifetime.
There was nothing short of perfect that afternoon. The vow exchange was genuine and sweet while the guests, young and old, families and friends all dissolved into one unforgettable ceremony. Afterwards, an equally posh wedding party ensued for the further celebration of the two unified souls.
To Karen and Victor, congratulations on your beautiful wedding. We've heard of your fairytale love story and we're even more awestruck when witnessing your chemistry firsthand. May your love life continue to spark, burn ever so bright, and resonate forever loud- just like the deafening thud and gentle crackling sounds of that night's firework dancing in the evening Bali sky.