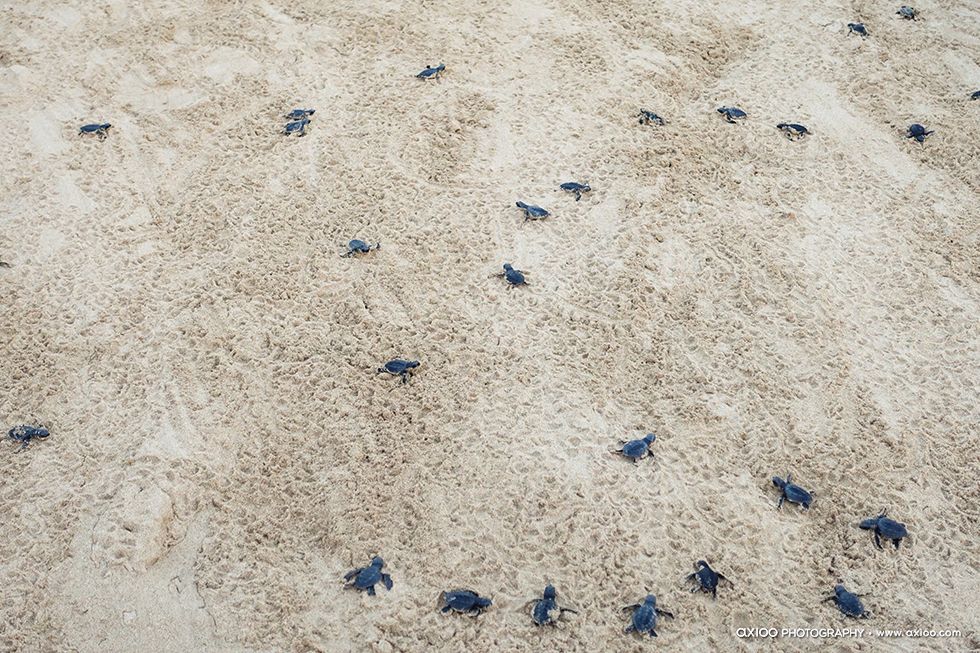 TURTLE RELEASE
16 APR 2016
Every breeding season, for the past 15 years, Balinese authorities organise a program to protect the endangered olive-ridley's sea turtle eggs on the beach. Before being destroyed by erosion, tourist traffic, feral dogs, and irresponsible human, the eggs are relocated to a special incubation facility. When the time is due, all hatchlings will then be safely released back into the sea.
Everyone was welcomed to release the turtles but small children were prioritised, as for them this would be a valuable learning experience on nature conservation. There were many adults too, standing behind the children, anxiously waiting for their turn to set a baby turtle free, as well as to pose for a social media worthy shots
One by one, 100 baby turtles hit the sand and scrambled towards the ocean. Their oversized flippers making an arduous task of the dash to the ocean, with occasional stops to catch their breath.
Some people fell pity on them and wished they could help more by releasing the tiny creatures directly into the water. But it is important to let these hatchlings feel and remember the texture of the sand beneath them, as the females will return to the very same beach where they first hatch, to lay their eggs, and start the cycle all over again.
The first turtles hit the water, and it was cheered on by hundreds of fans. The occasional big waves washed many straight back to our feet, but you couldn't help but be moved by their sheer determination, they just kept going!
I know many of them won't make it – bite sized snacks for gulls, fish and many other forms of natural and man made hazards – but at least we tried to lend a helping hand on their odds of survival.
May peace always be bestowed to you all,
Axioo Bali