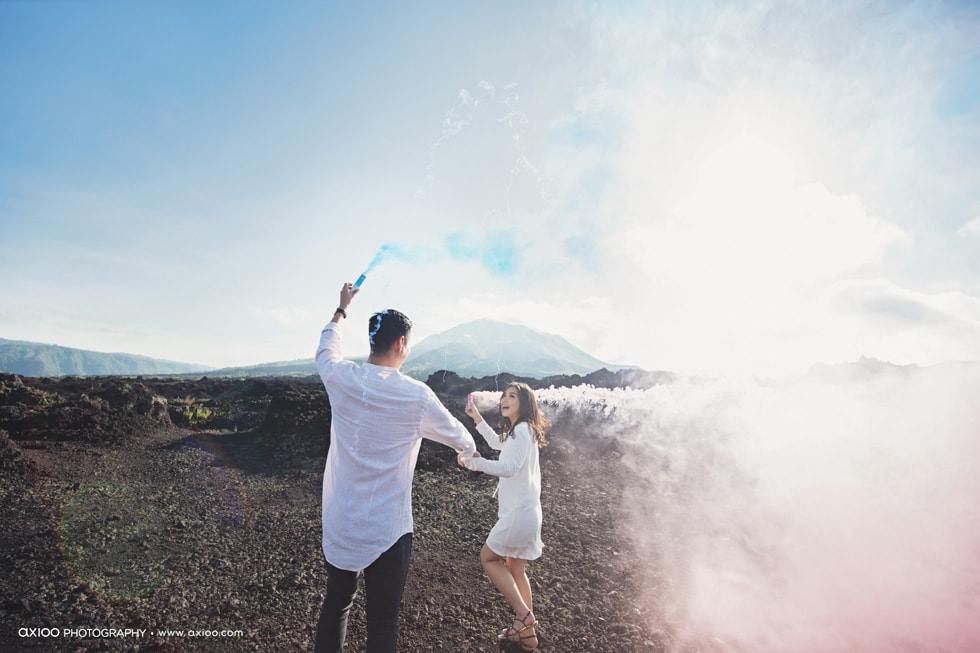 It's not every day we get the chance to get up, close and personal with Indonesia's top TV personalities who everybody knows. Lucky for me, I got the privilege to do that a few weeks ago when I met Junior and Putri who are both Indonesian-born actor and actress. I must admit that when I first heard that I will be shooting for their pre-wedding, my hands got cold almost instantly. I was quite nervous. I didn't know what to expect when I met them (because, let's face it, I'm not usually buddy-buddy with that many celebrities, you know) and so I just assumed that it would be super challenging. It turns out that I was worried and nervous for nothing… because they were great. Seriously. They were so friendly and they treated our whole team like old friends. That first meeting set the bar for everything else.
"I believe it's the look that can turn knees into jellies and hearts into mush."
The session became a breeze. They were natural in front of the camera, not because they've had a lot of practice in that area, but more like, they were comfortable being themselves and being with each other.
A few minutes into the session, I found myself really enjoying the experience. I really had a good time shooting for them. Clicking on my camera quickly became addictive because to witness a chemistry like the one that Junior and Putri has was amazing.
I caught a glimpse of Junior looking at Putri once. He looked deep into her eyes and he had this look… like he could see right through her and into her soul and that he loved everything he saw. I believe it's the look that can turn knees into jellies and hearts into mush. I believe that it's the look every girl dreams of. And that look was beautiful.
When the session was over and we had a bit of down time, I casually asked them about their story. They said that their beginning was pretty random. He had the idea to text her one day and they went on chatting until they ended up driving to a random place for dinner. That sounded fun, doesn't it? They also talked about the challenge of getting to know each other and investing time to grow their relationship in the midst of their busy schedules and how they managed to overcome all that. Today, they are more than lovers, they are the best of friends.
Their wedding is going to make national news, I just know it. But I pray that in the midst of the commotion, they can still find the joys of getting married and revel in it. Congratulations, in advance, to the happy couple.
Cheers,
Will